Prevent Allergies Before They Start
Regular price
Sale price
$19.99
Unit price
per
Sale
Sold out
Regular price
Sale price
$19.99
Unit price
per
Sale
Sold out
View full details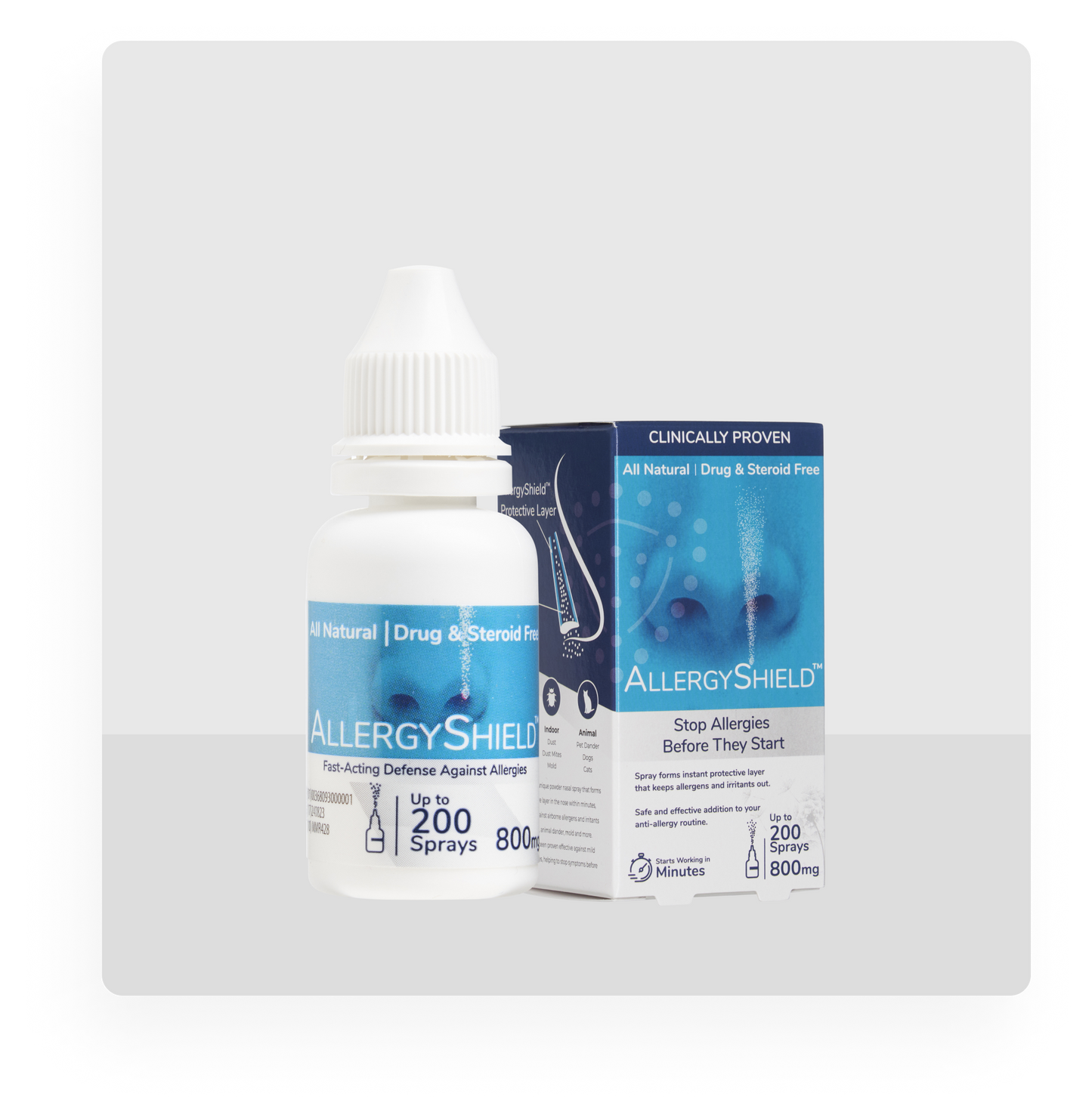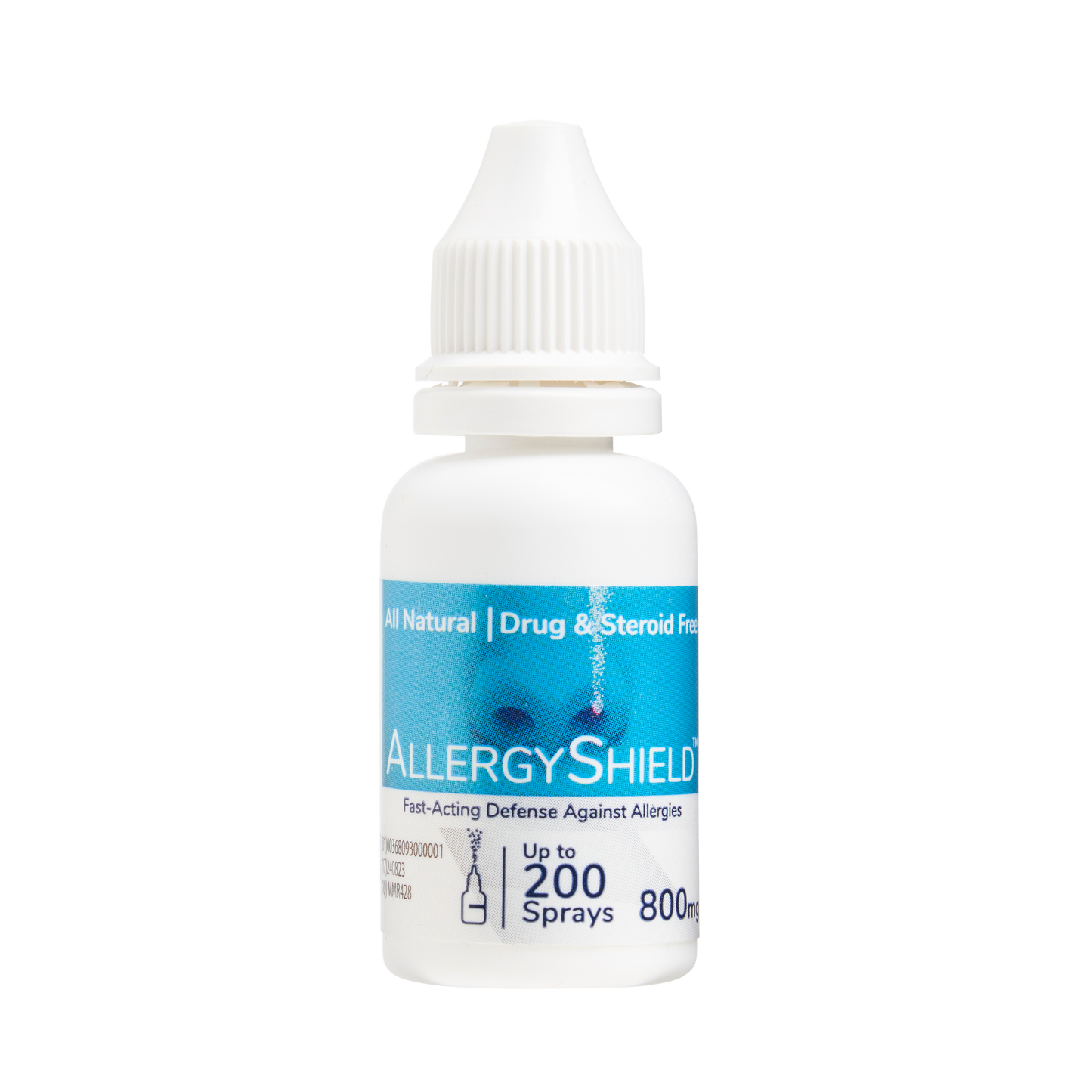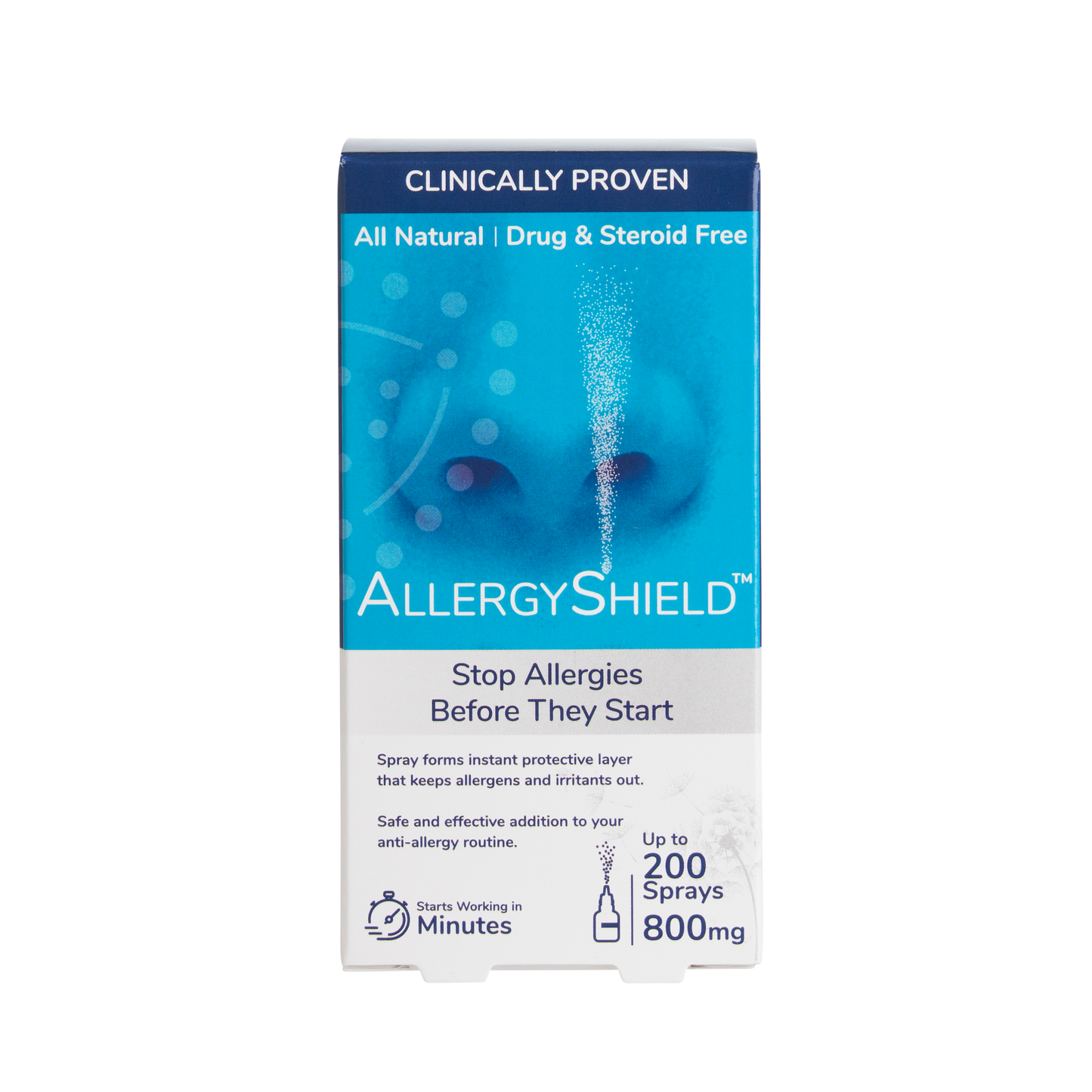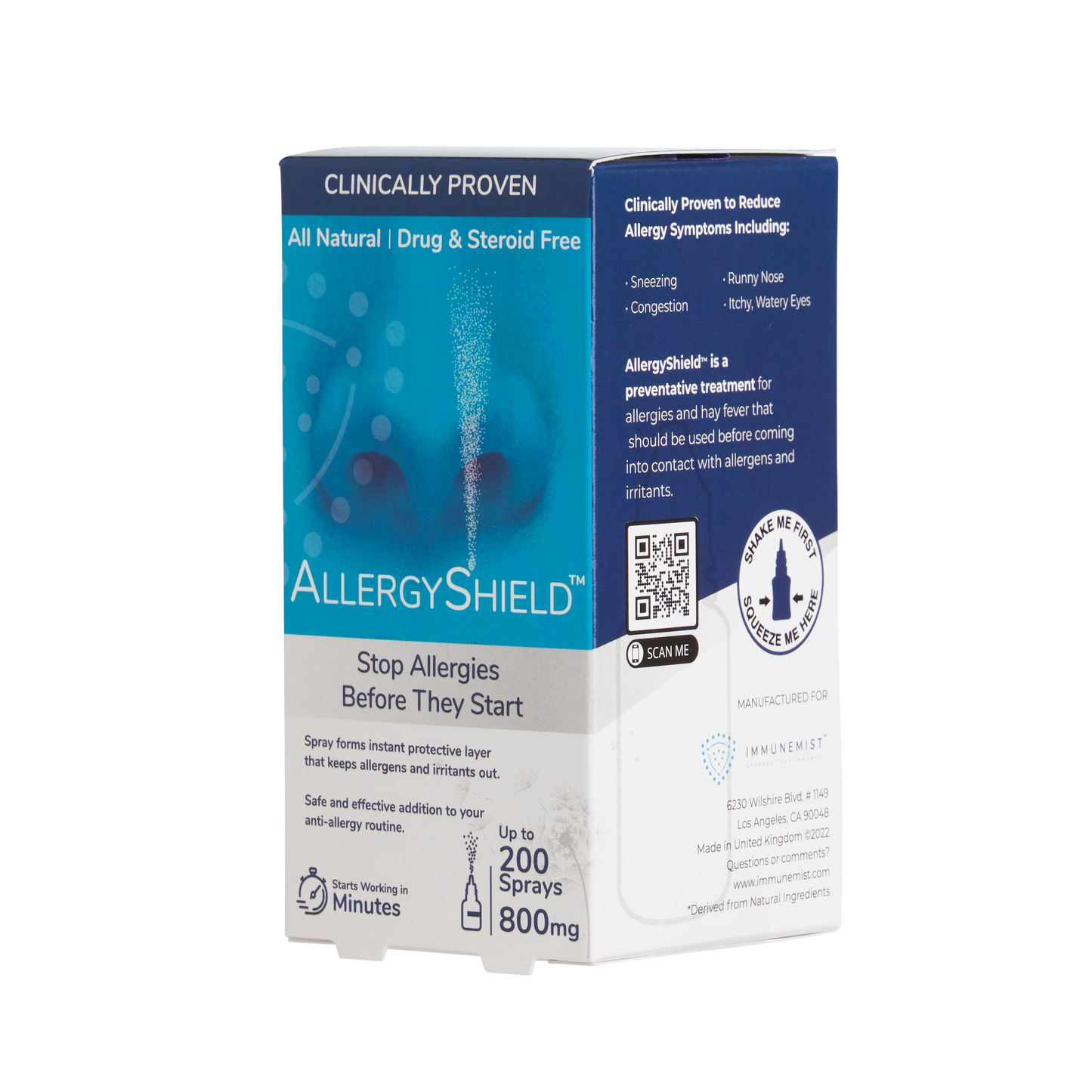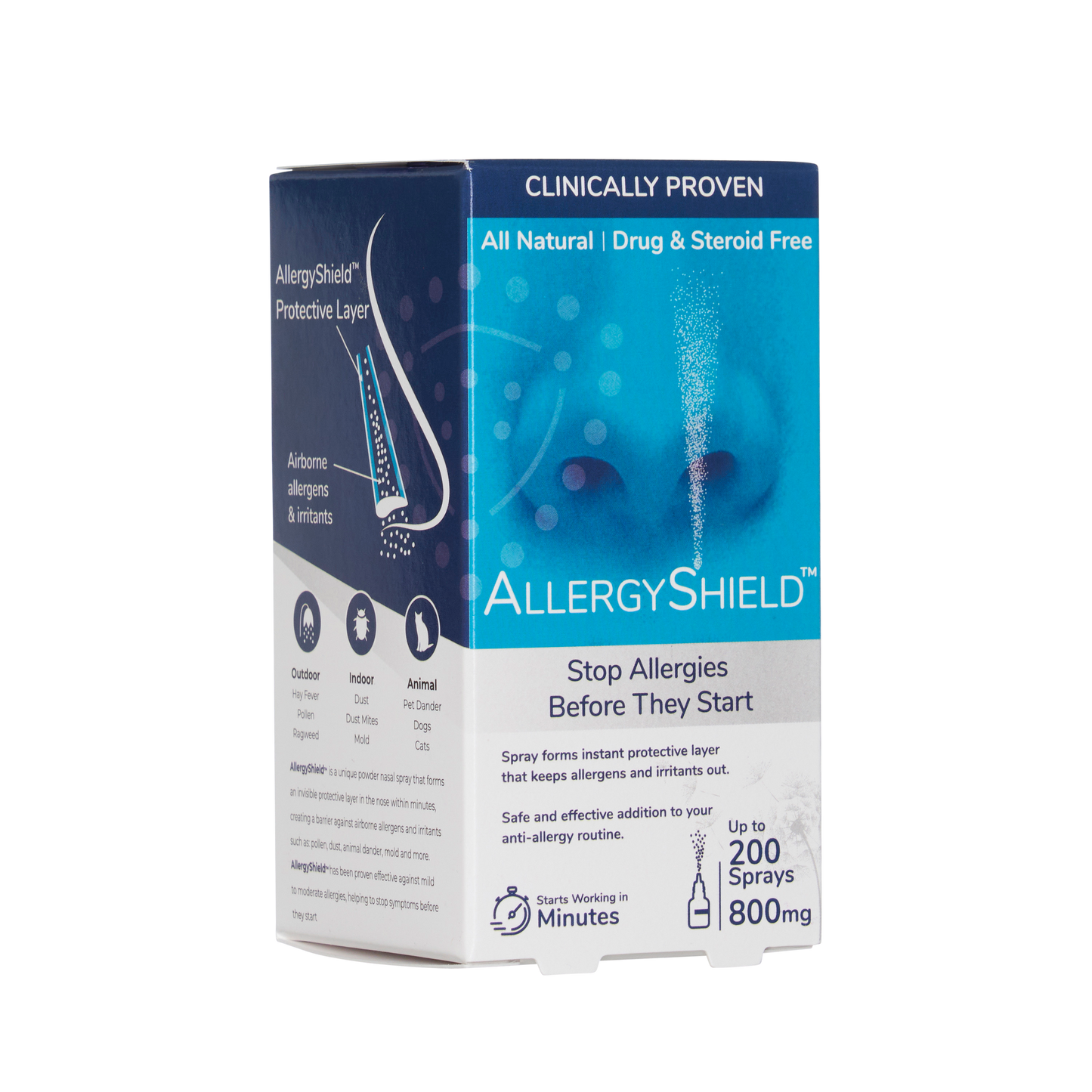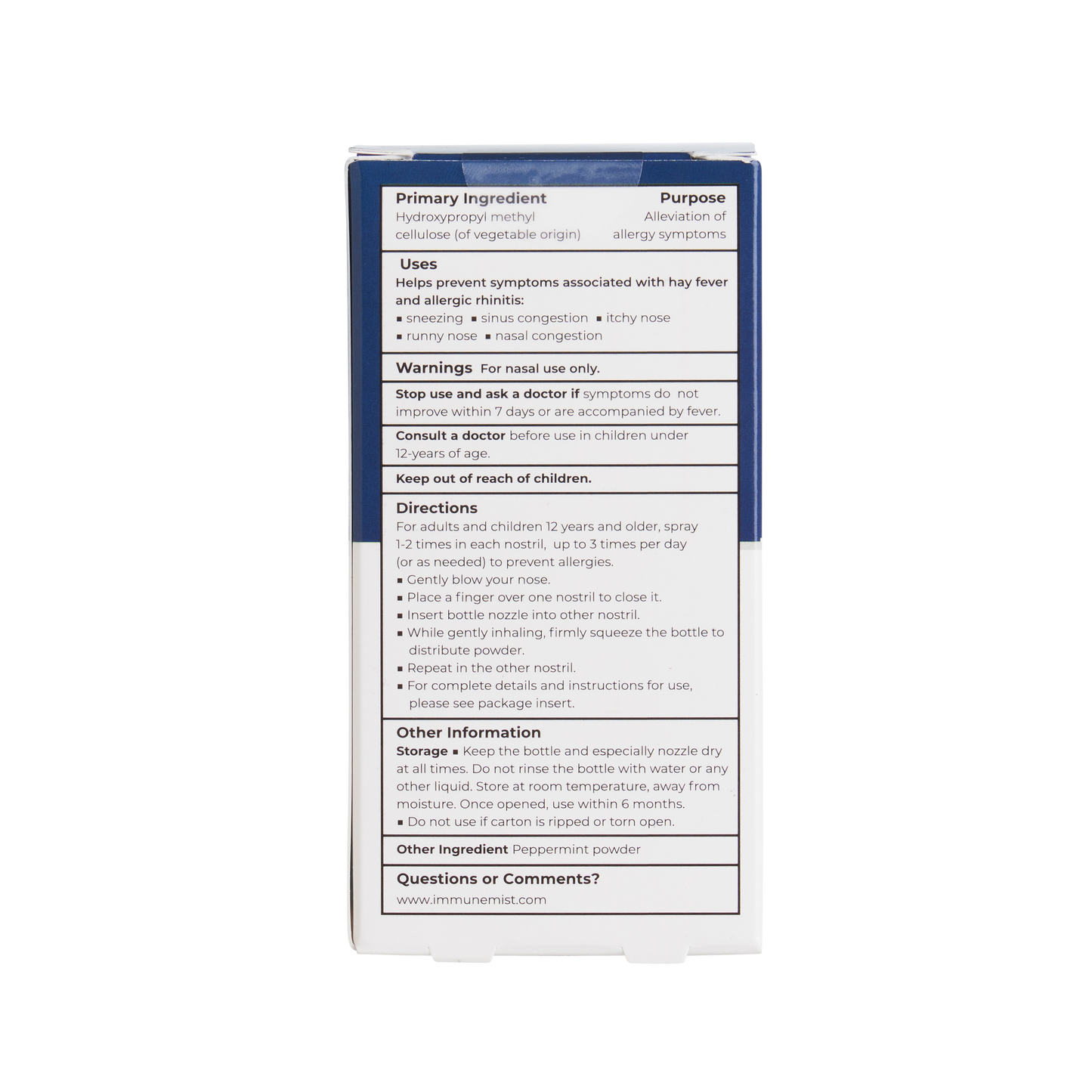 AllergyShield™ contains a cellulose powder, which when administered into the nose forms a gel-barrier that stops many airborne irritants reaching the sensitive lining of the nose. The product creates a physical shield, providing an extra layer of protection against allergens that are inhaled into the nasal cavity.
Individuals who experience hay fever and who are prone to irritation from airborne allergens such as pollen, dust mites and animal dander. AllergyShield™ is suitable for pregnant and breast-feeding women, as well as children over 18 months when used under supervision
The AllergyShield™ standard dose is one puff of powder per nostril, three times daily. Each bottle contains 200 sprays, yielding a 30 day supply. For maximum effect, a constant layer of AllergyShield™ protective gel-barrier is necessary in the nose. It is therefore recommended the product be re-administered in the event you blow your nose to refortify a complete protective barrier.
AllergyShield™ contains a patented cellulose powder, which is inhaled into the nostrils providing protection against airborne irritants and germs. The primary ingredient in AllergyShield™ is Hydroxypropyl methylcellulose (HPMC).
Industry Leading Anti-Allergy Support
Outdoor

Hay Fever • Pollen • Ragweed
Indoor

Dust • Dust Mites • Mold
Animal

Pet Dander • Dogs • Cats
AllergyShield™ Clinical Studies
Multiple studies have examined and substantiated the benefits AllergyShield™ provides to individuals experiencing allergic rhinitis. These studies verify that methyl-cellulose powder, the primary ingredient in AllergyShield™ acts as a significant deterrent against inhaled allergens, such as pollens.
1

Clinical review paper; Methyl cellulose powder for the prevention and management of nasal symptoms, Popov T, Aberg N, Emberlin J, Josling P, Llyna NI, Nikitin NP, Church M. Published in Expert Review of Respiratory Medicine 11,11, 885-892 DOI 2017.

2

Double blind placebo controlled cross over trial of inert cellulose powder, by nasal provocation with grass pollen to assess efficacy of the product in controlling symptoms of hay fever, Emberlin J and Lewis R, Poster presented at European Academy of Allergy and Clinical in 2006.

3

Effect of micronized cellulose powder on the efficacy of topical oxymetazoline in allergic rhinitis, Valerieva A, Popov T, Staevska M, Kralimarkova T, Petkova E, Valerieva E, Mustakov T, Lazarova T, Dimitrov V and Church MK. Published in Allergy Asthma Proceedings. 2015; 36(1).

4

A nasally applied cellulose powder in seasonal allergic rhinitis in adults with grass pollen allergy; a double blind placebo controlled study. Aberg, Ospanova, Nikitin, Emberlin and Dahl. Published in International Archives of Allergy and Immunology.2014; 163(1).
Choosing a selection results in a full page refresh.
Opens in a new window.